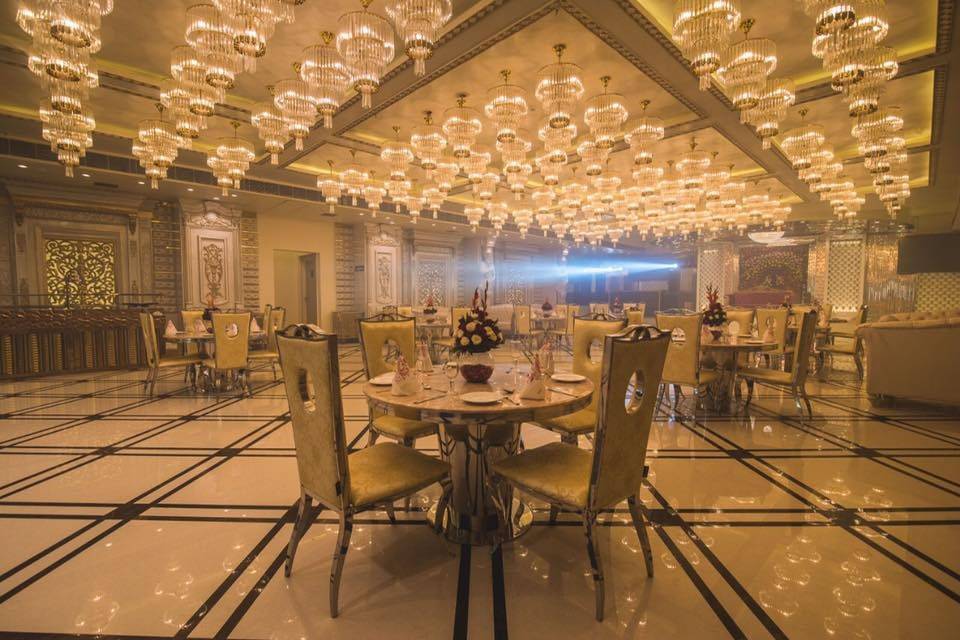 28 Jan

An Exquisite Experience at VIP Hall Shrivaaru Palace

Are you looking for a unique and luxurious experience for your next special occasion? Then look no further than VIP Hall Shrivaaru Palace. Located in Chennai, India, VIP Hall Shrivaaru Palace provides an exquisite experience for any event. In this blog post, we will explore what makes VIP Hall Shrivaaru Palace unique and the Rent Premium Event Halls near Chennai, and the services it offers. We will also look at why renting a premium event hall is the best choice for any special occasion. By the end of this post, you will have all the information you need to choose the perfect venue for your next event.
What Makes VIP Hall Shrivaaru Palace Unique?
There's no doubt that VIP Hall Shrivaaru Palace is one of the most unique and elegant venues in the city. With its impeccably designed ambiance and tastefully decorated surroundings, this venue is perfect for hosting any kind of event. From weddings to corporate meetings, there is a venue that catered to your specific needs.
Not only are the facilities top-notch, but the team of professionals behind VIP Hall Shrivaaru Palace is dedicated to providing you with personalized service. From setting up your event to ensuring that everything goes smoothly, they will make sure that your guests have an enjoyable experience. In addition to their excellent service, VIP Hall Shrivaaru Palace also offers a variety of cuisines that are perfect for any type of event. Whether you're looking for Indian or Thai food, you'll be able to find it here. And with modern technologies and facilities available, your guests will enjoy every minute spent at your event.
In addition to catering to events, VIP Hall Shrivaaru Palace provides post-event assistance that goes above and beyond what is expected from other venues. Whether you need help packing up or just want someone to talk with after your event, they are always available! And with prices that fit almost any budget, it's easy to find the perfect venue for your next gathering!
Exploring The Luxury And Rich Culture Of VIP Hall Shrivaaru Palace
If you're looking for a luxurious and exclusive experience, look no further than Vip Hall Shrivaaru Palace. This palace is home to some of the most exotic royalty in the world, and it's designed with your comfort and enjoyment in mind. From the moment you arrive, you'll be treated like a king or queen – with sumptuous accommodations that are tailored to your individual needs. There are dozens of exquisite venues that can be used for weddings, parties, and corporate events – all with breathtaking views of lush green gardens.
But that's only the beginning. Sumptuous cuisines from around the world will be available at your disposal, as well as experienced staff who will take care of every detail. And if entertainment is what you're looking for, modern audio/visual technology will provide an enhanced entertainment experience that will leave you speechless. Add Vip Hall Shriavaaru Palace to your travel plans today and enjoy an unforgettable luxury experience!
Why Rent A Premium Event Hall For Your Special Occasion?
When planning your special occasion, it's important to consider whether or not you should rent a premium event hall or venue. While there are many beautiful and elegant event halls available for rent, none compare to the Royal Rooms. This luxurious event hall has stunning decor and an elegant ambiance that will make your guests feel like royalty. In addition to beautiful décor, the Royal Rooms offer professional catering services, superb sound equipment, and excellent acoustics. This makes it the perfect place for hosting a variety of events from weddings to corporate gatherings.
For budget-conscious guests, the Royal Rooms offer various packages that include different amenities and services such as overnight stay or relaxation in one of the luxurious royal rooms. For guests looking for more activities and entertainment options, the Royal Rooms have plenty of options including delicious gourmet menus and delightful treats. Plus, on-site security provides peace of mind during your special occasion.